Algeria 1982
Algeria at the 1982 World Cup was equally unlucky. They are one of the very few teams to win two matches and still be eliminated right after the World Cup group stage. In the opening match, Algeria defeated Germany 2-1 in the most shocking match in the tournament history. The North African representative lost to Austria in the next round but defeated Chile 3-2 in the last round. Unfortunately for them, Austria and West Germany actively shook hands with Algeria. Germany soon had an opening goal in the right scenario and then both kicked like a walk to eliminate Algeria.
Senegal 2018
Senegal is one of the most surprising teams in the 2018 World Cup. They beat Poland in the opening match, drew Japan 2-2 before losing to Colombia 0-1.
Before the final match, Senegal and Japan were equal in every index, from points (3 points), goal difference (+1) to the head-to-head record (2-2 draw).
In the final match, both failed but Japan overcame Senegal to win tickets to go forward … receiving less yellow cards. The yellow card index is called "fair play" by FIFA, but the way Japan won the ticket of Senegal is not beautiful at all.
Japan was led by Poland in the 59th minute. Asian representatives also showed their efforts to score and equalize. But when the game was about 10 minutes late, knowing that it was hard to score a goal, plus maybe Senegal was also ahead of Colombia, so the Japanese players chose to play hard, pass the ball back and forth. The yard waits for time, avoids losing more and gets more cards.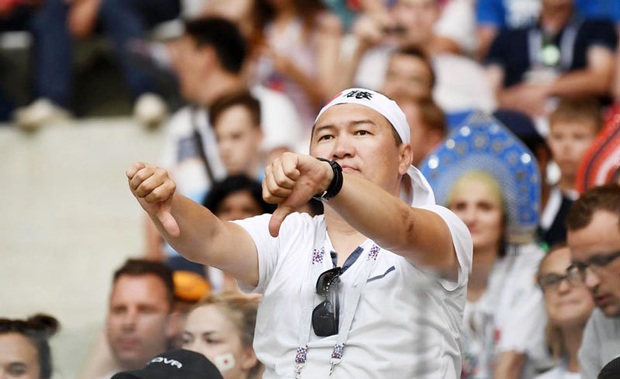 The last 10 minutes of Japan-Poland match were the stain of football history, causing the image of the clean team nicknamed "Samurai Warriors" to be dirty. Even Japanese fans feel indignant for the audience to watch television, the photographer recorded the moment when Japanese fans raised two thumbs to the ground, expressing frustration.
Cameroon 1998
At the 1998 World Cup, Cameroon made it to the difficult group. They lost to Italy, drew Austria, but if they defeated Chile in the final match, Cameroon will enter the next round.
In the final minutes of the match between Chile and Cameroon, when the score was a 1-1 draw, the referee rejected the perfectly valid goal of captain Francois Omam. The referee believes a Chilean player was fouled before Cameroon scored. In the end, the two teams drew 1-1, Cameroon was eliminated and Chile went on.
The distorted whistle of the black king made the people of Cameroon angry. Captain Francois Omam accused the referee of stealing Cameroon's victory. Cameroon's Minister of Sports and Youth then said the 1998 World Cup was "a festival of scandals".